Monitor PC Activities With Free Keylogger
Free Keylogger is a free monitoring software that can track PC activities and internet usage easily. You can track other people's activities and what other people are doing on your PC using this freeware. Let's see what this free keylogging software has to offer.
You can use this free invisible keylogger to spy on other people and to check other user's activities. Normally keyloggers are software that monitors a user's keystroke. And this free keylogger can record and monitor keystrokes check clipboard activity monitor other user's internet activity on your PC or networks using administrative access. The user's won't be able to disable this software or see it when this free keylogging software is working and tracking all their activities. If you want to track someone else's PC without taking anybody's permission you might face legal issues later. But if you want to monitor your child's internet activities as his parents Free Keylogger is the best option for you.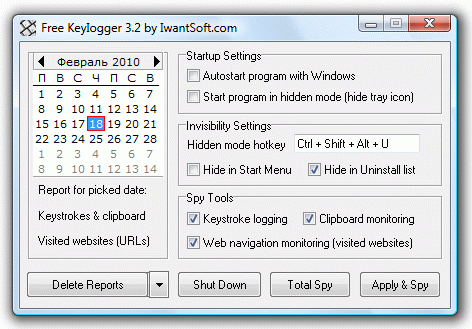 Free Keylogger comes with a small simple interface with simple features like built-in calendar invisibility settings and other tools. There are check boxes for monitoring internet activities clipboard scans and selecting keystroke logging. This free internet activity monitoring software can create a report of a day's activities and these reports can be deleted instantly whenever you want.
Features of Free Keylogger:
Monitor someone's PC activities and internet usage activities
Monitor internet navigation and clipboard changes
Intercept things typed on keyboard including chats passwords and documents
Record activities invisibly
Free Keylogger is available for download at IWantSoft's website. It's only 555.01KB in size and supports Windows XP or higher. Try Free Keylogger Free