Intel Turbo Boost Technology Monitor – Measure i5/i7 Processor Usage
Intel Turbo Boost Technology Monitor is a free downloadable gadget which is developed by Intel itself. The gadget is capable of monitoring the functioning of Turbo Boost Technology in i5 or i7 processors manufactured by Intel. The application consists of a vertical bar that displays the maximum and minimum processing speed in GHz. As the processor starts performing and as soon as it starts using Turbo Boost Technology the gadget indicates the amount of processing speed that is being used. In this way users may come to know as which application consumes what amount of processing. Also since the application is a sidebar gadget it does not hinder running applications or tasks that users initiate.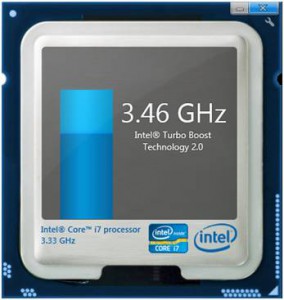 Pros
The application is small in size and is free to download from Intel's official website.
No complications are involved while using the gadget and the users simply need to install it in order to monitor Turbo Boost Technology usage of the processors.
Processor usage is displayed in the form of vertical bar which allows users to assess the consumption of processor at a single glance.
Cons
No specific and granular controls are provided with the gadget.
No log files are generated by the Intel Turbo Boost Technology Monitor while it is in use.