Get New Friends with RediffBol 8.0 Messenger
RediffBol Messenger is a freeware chat messenger that can be downloaded from the Rediff's official website. The total size of the file is not more than 4.5 MB and it does not require active Internet connection to get installed. In other words it can be downloaded from the Internet and then can be installed offline. However in order to connect to the server and to log on to the messenger users must have high speed Internet connection (128 Kbps or higher recommended). The messenger contains approximately 100+ chat rooms where users can meet new friends and discuss on almost any topic of their choices. Since the application is lightweight gets connected within no time.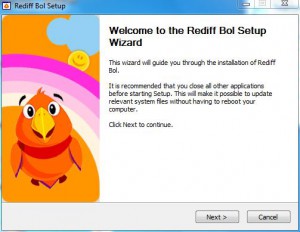 Pros
The chat rooms in the messenger are named on the name of the cities of India which enables users to find friends from their local regions.
Since the chat rooms can contain up to 500 check users a user can have wide community with people of common likes and dislikes.
The messenger also offers SMS services which users can use by saving mobile numbers of their friends.
Cons
There is no room moderator in any of the chat rooms available on the messenger which may encourage a destructive user to spoil the decorum of the rooms.
SMS service which is available in RediffBol Messenger allows users to send only one SMS per 24 hours.
Download Link: http://messenger.rediff.com/newbol/