Tune Guitar Professionally with Digital Guitar Tuner
Digital Guitar Tuner is a freeware application that can be downloaded from the official website. The size of the installer file is approximately 1.3 MB and is easy to install. The software is mostly liked by the people who are music lovers and have the hobby of playing guitar. The application tunes the strings of the guitar if they are mistuned because of any reason. The software is developed for Windows and is compatible with the latest versions of operating systems. The interface is easy and user friendly and therefore even a novice computer user can operate the application. Since the software is absolutely free of cost it enjoys the precedence over other competitors available in the market.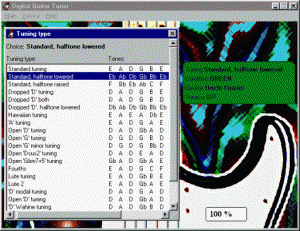 Pros
The application is lightweight and therefore it is not consumes additional processing or memory.
Even most experienced guitarists can refer the application to assess their accuracy level.
The application does not require any output device to work and can perform well even if only input device is available.
Cons
The application requires microphone of sophisticated quality to function efficiently.
New users might find it challenging to adjust the distance between the guitar strings and the microphone.
Digital Guitar Tuner cannot be used for outdoor performances as it requires a computer system.
Download Link: http://www.guitar.sk/guitar/guitar_software.htm