Know Your Graphics Card with GPU-Z
GPU-Z is a freeware information collection tool which collects all the information regarding graphics card installed on the user's computer system. The application is most liked by game lovers as with the help of this software they can collect the graphics card's configuration and can compare it with the minimum or recommended requirements for any game. It is also useful for the people who are into animations or any other graphic designing fields as they can assess which application will run smoothly on their computers. The application needs not to be installed after it is downloaded from the official website as it runs directly from its executable file which makes it portable and easy to use. The file size of the application is less than 1 MB and therefore is quickly downloaded from the official website.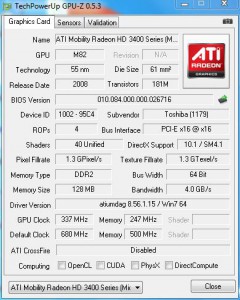 Pros
The application is capable of collecting almost all information that might probably be required by a person to assess the compatibility requirements.
Apart from gathering the graphics card's information it also displays the real-time measurement of GPU clock.
All the displayed information can also be saved in a file for future references and analysis.
Cons
Although the application is portable and needs not to be installed on the computer system to get executed however when GPU-Z executable file is double-clicked it still requires elevated privileges (at least in Windows 7 and Windows Vista).
Download Link: http://www.techpowerup.com/downloads/1978/TechPowerUp_GPU-Z_v0.5.3.html