Jordy Video Downloader: Free Video Downloader
Jordy Video Downloader is a free video downloading manager that helps you to download from different online websites like YouTube Dailymotion etc. if you want a video downloader that can help you to download videos from popular video sharing websites online Jordy Video Downloader is the best option for you.
Some people love downloading videos from popular online video sharing sites. But if you find it difficult to download videos from websites like YouTube Dailymotion Google Videos Facebook etc. you can think about trying Jordy Video Downloader. You can download video and audio segmented files using this free video downloader. Moreover you can also see a preview of the file before downloading them. This freeware can automatically detect the video and grab the download link so you don't have to do much work manually.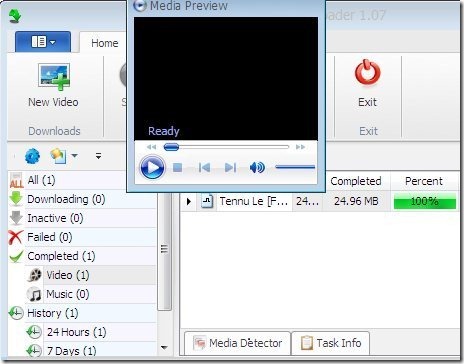 This free video downloader is very easy to use and comes with a simple easy to use user interface. You can increase the download speed and enjoy better buffer rate. If you want to check content information it's available inside help bar. You can pause and resume your downloads easily. If you want to check the files you have downloaded so far there is a history of the files you have downloaded of maximum last 30 days.
Features of Jordy Video Downloader:
Download videos from popular video sharing websites
Download and play both audio and video file
Supports converting to MP4 AVI MPEG and MP3
Simple easy-to-use
Jordy Video Downloader can be downloaded from Jordy Soft's website. It's only 19MB in size and supports Windows XP or higher. Try Jordy Video Downloader Free