Meet, Talk and Watch Your Friends with Paltalk v10.0
Paltalk is a freeware chat messenger that can be downloaded from the official website. The messenger is fully equipped with the rooms from almost every country in the world. The categorization of countries and their respective rooms is arranged efficiently to make it easier for the users to locate the countries and rooms of their choices. The messenger allows users to play music tracks of their choices while chatting. This makes chat even more fun. Basic version of Paltalk is absolutely free and users can create their accounts to chat. However there are membership plans available with the messenger as well which offer promising features according to the plan type.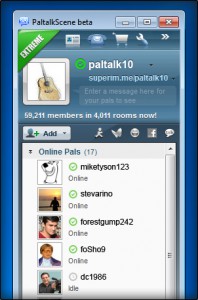 Pros
Unlike other chat messengers in Paltalk users can be present in multiple rooms at the same time. However if the music is being played in any or every room music played on the most active window will be audible.
Users can create their own rooms in any of the available communities.
The owner of a room can appoint multiple administrators/moderators of their own rooms to maintain appropriate discipline.
Personal conferences can be made even more entertaining by enabling videos in them.
Cons
Paltalk sometimes crashes if multiple rooms are double clicked between short time intervals (3 to 5 seconds).
Download Link: http://www.paltalk.com/download.php?refc=83190