When I bumped into Glide the first thing that came into my mind was 3dfx's graphics API. Oh those days... but since most people today simply don't remember that let's move to Glide OS 4.0 shall we? After all I think Web-based cloud computing solutions like Glide OS are still a bit ahead of their time just as 3dfx's Glide was over a decade ago so I can only hope that this Glide we're talking about here today won't share the same fate - it would be a real pity trust me!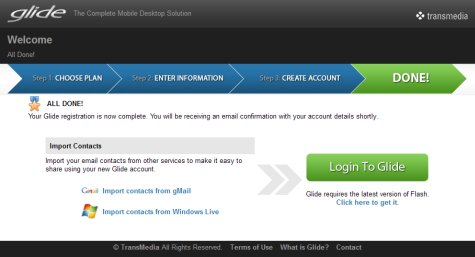 Moving to my third degree encounter with Glide OS 4.0 I must say that I am really impressed after a few minutes of use. In fact I am so impressed that all I can do is to drop you some of that official mumbo-jumbo instead of digging those features myself: "Glide OS 4.0 is a comprehensive Ad-Free cloud computing solution. Glide provides a free suite of rights-based productivity and collaboration applications with 30GBs of storage. Setup and administer up to six family member accounts including child accounts from your Glide settings panel. The Glide OS provides automatic file and application compatibility across devices and operating systems.With Glide OS you also get the Glide Sync App which helps you to synchronize your home and work files."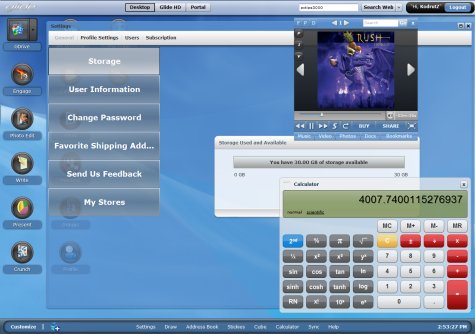 Now let me tell you what I really love about Glide OS 4: since it uses Flash it works on virtually any operating system/device as long as they support it; having 30 GB of online storage space for free is really awesome and - correct if I'm wrong - unique since most file sharing/storage services charge some serious cash for being so generous; some of the apps available are great (you will have to discover those for yourselves I'm not giving any hints); the integration of the Glide Portal is well done and you'll get a lot of useful info only one click away... so go ahead and get yourselves a free account what are you waiting for?
Oh yeah here's a little warning for the speed freaks out there: as you probably imagined there's still nothing faster than the OS actually installed on a device so don't expect Glide OS to be blazing fast - after all we're talking about remote Flash apps... just take this as it is and get back here to share your opinion with the rest of us all right? ;)