Today i will show you a few tips that will make your life easier.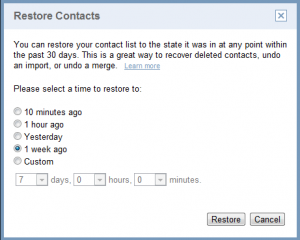 Let's say you want to clean your address book and you make a mistake and you delete an important contact. What you can do? Gmail has the solution. You can restore your delete contact. Just go and click on "**Contacts"**in the left pane. From there go to  "More Actions…" button and choose  'Restore contacts…'. Here you can restore your contact list to the state it was in at any point within the past 30 days. You can choose to restore

The next tip is useful when you want to send a message and you realized you sent it to the wrong person or the message is not complete. In Gmail you can undo a sent message or you can "unsend" it.To enable this feature you will have to access the Labs section of Gmail. Here you will find "Undo send" . To find it easily search it from your browser: Ctrl+F and type Undo send. Choose enable from the menu and now you can stop messages from being sent for a few seconds after hitting the send button. Also you can change the send cancellation period from 5sec to maximum 30sec. For this go to Settings -> General.