Golden Filter Premium: Free Parental Control Utility
Golden Filter Premium is a free internet browsing filter that helps you to control internet browsing activities easily. You can prevent internet users from watching inappropriate or unnecessary contents. You can use this freeware at Internet Coffee Home Universities Public Libraries and other places for controlling internet activities.
This free parental control software can be used for preventing children from watching adult stuff or other inappropriate content. This freeware can hide from users when working and can be uninstalled only from inside the software. You can make the browser shut down if the user is browsing a website that contains restricted words or browsing the restricted sites. And this feature supports all the internet browsers and comes with live update ability. You can also put restrictions on some software and hide your important files and folders using this free security software.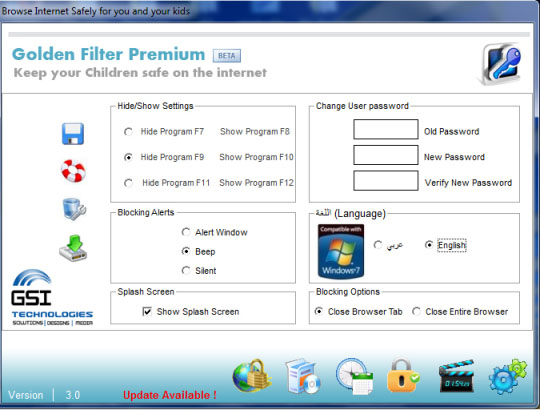 This free security software is very easy to use and you can get access to the software by typing the default password "admin". You can change this password later whenever you want. When the program is running you can hide the program using F9 and press F10 to open Golden Filter. You can create your own list of words or use the lists provided with this free parental control utility. You can also capture other user's PC activities in a hidden folder and watch them when you are back.
Features of Golden Filter Premium:
Restricted Words: Shut down a browser when the user is browsing a website that contains a restricted word
Restricted Sites: Restrict websites with live updates that supports adding sites later
Capture User Activities: Check other people's internet activities when you are away and save them in a hidden folder.
Golden Filter Premium is available for download at GSI Egypt's official website. It's only 3.1MB in size and supports Windows XP or higher. Try Golden Filter Premium Free