Why keep URLs long when you can easily shorten them huh? There's no logical reason for that and even better I just bumped into a pretty fresh Firefox addon that can take care of this task for you. Even better we're not just talking about some plugin that uses one obscure URL shortener since Google Shortener... I guess the name says it all right? ;)
Google Shortener's current version is barely 0.2 but it was released on the 28th of January and most important part of it all it gets the job done properly. Obviously its job is to take long URLs and shorten them using Google's url shortening API. I have no idea about the technical part but the way this works is really straightforward - you right click a link on a page press Z or click on the Shorten Url option then paste the short link wherever you may need it. That's all you have to know about using this Firefox addon!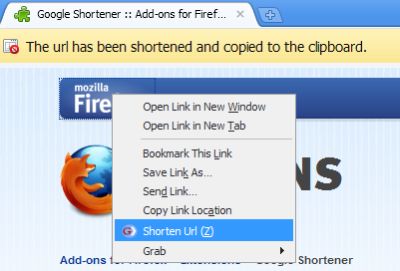 Obviously the Firefox addon we have here is free to download and use and in case you were wondering about its possible compatibilty issues it seems everything's just fine. After all Google Shortener 0.2 is supposed to work great with Firefox 3.5 - 4.0 right? I say "is supposed to work" and not "it works" simply because I only used it on my Firefox 3.6.13 so I can't bet on any other version...
In case you want to know anything else about Google Shortener feel free to drop a question below. No no it can't make sandwiches! That's all folks! ;)