How To Disable The Windows XP Desktop Icons And Why
When my friends are asking for my help they usually want me to do things the way the want. That would be nice but they would end up asking for my help again in a few weeks and I don't want that. I usually enjoy spending some quality time with them instead of reinstalling Windows XP and telling them what they shouldn't do.
If you ever had to setup more than one computer you probably know already that the inexperienced Windows user never listens to others' advice and today we'll attack a little part of this very large problem...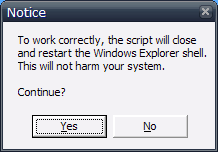 ... and this problem is a very simple one: how to keep things in order. What I always say to the ones asking me about it is that Windows (XP or Vista it doesn't matter) without any kind of file manager is like a car without wheels. No I don't think Windows Explorer can be called "file manager" despite the fact that's what it should do!
Anyway I am sure you've seen a lot of computers with at least a few dozen icons laying on the desktop and the owners of those computers complaining about the poor performance of the computer the weather the crisis and so on. While I can't do anything to solve the other problems here's what I do to keep things in order and get the best out of my computer - I disable the desktop icons!
If I recall it well there's a chance to do that by manually editing the Windows registry but why bother when I have a script for you that can help you do that? Just download this arhive unpack the file inside it double click that file and choose to continue when asked. Don't worry because if you don't like your new clean desktop you can easily run it again and enable desktop icons once again.
I've been doing this for years and I must confess it's one of the most well hidden Windows secrets especially because most Windows XP books and guides don't mention it for some dark reason.
All that you need to remember is that if you fight your own old habits and learn how to use Windows XP with a file manager and no desktop icons you will come back here one day and thank me because time is the most valuable asset we have and instead of waiting for Windows XP to refresh its icons cache and reload all those 5436 icons lying on your desktop you could be enjoying some quality time with the ones you love... or earn some more money!
One last thing - since Windows Vista is more flexible you can easily remove all icons from its desktop so there's no need for this trick on the computers running it. On the other hand I don't think it works in Vista. Anyway Windows XP still has some years ahead and I still believe it's the best Windows OS for the average Joe as well as power users who want to get the job done and not enjoy some 3D flipping windows and shiny rounded corners...