How to Adjust Double-click Speed
Some of us just started to use the computer while other ones are having 10-15 years experience with using it. Some of us are pros while others are beginners. Handling the mouse might seem something easy for a proficient user but when you first put your hand on it it might be a bit more difficult. That's why chancing the mouse double-click speed should be something you need to look into right  now. Maybe you don't feel comfortable with it right now so just follow those steps.
1. Go to Control Panel from the start bar.
2. Click on Mouse.
3. Go to Activities. Here you will notice a slider which is probably more to left than to right. Depending how much you move it to right it will get faster. You can try to test it by clicking on the little folder icon on the right hand side of the Mouse window.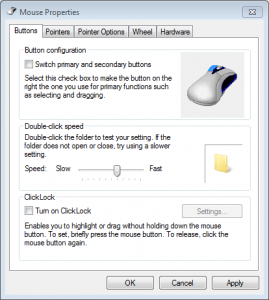 From here you can also select the speed of the mouse wheel by going to another tab called Wheel. You should pay attention to how you use the wheel because I use it to scroll faster through long documents so that's why my slider is more to the right than to the left.
From the tab Pointer Options you can change how fast will your mouse move. You do that by playing with the Pointer Speed option.