How to Change Your Desktop Background
Having the right background image on your desktop might improve your mood and might do wonders for your computer appearance so this is something you should think about doing. Why use the same boring background all the time? You've just taken a great shot during your last ski experience so why not set it as a background on your desktop?
This process takes a maximum of two minutes and the level of difficulty is novice I am sure that after you've done it once you'll remember how to do it forever.
For the first step you need to right-click on your desktop and select Personalize. Then click on Desktop Background which is placed in the bottom of the window. Then you will be able to browse for your picture in the computer. Click on "Browse" and locate your photo. Pick it and it will immediately appear in the list. Then chose if you want your picture to fill your desktop fit it be stretched center it or tile it. You can do that from the drop-down list available on the bottom.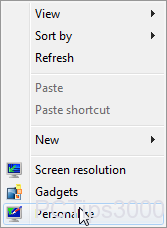 For your enjoyment you can chose to change the picture at different intervals but you might not want to have this activated while you are on battery. You can do that by selecting several pictures and choosing a time to change them from the bottom.
There you have it now your background picture is changed and you can enjoy it for as long as you want.