How to Enable Remote Desktop in Windows 7?
Remote Desktop is the feature using which you as an Administrator of a computer can access a machine from any other computer which can be located in other room or totally different geographical location. This feature is helpful for those who use to manage computers from any remote locations. This feature is also valuable for the people who have Small Office Home Office (SOHO) setup at their places and they don't want main computers to be accessed by logging on directly to them.
In order to enable Remote Desktop feature below instructions are to be followed:
Click on "Start" button.
From the menu right-click on "Computer" and select "Properties".
In "System" page in the left pane click on "Remote Settings" link.
On the "System Properties" box ensure that you are on the "Remote" tab.
In the "Remote Desktop" section in "Remote" tab select "Allow connections from computers running any version of Remote Desktop (less secure)" radio button if you want to remotely manage your system from Windows 2000 Windows XP or Windows Vista/7 computers. Alternatively if you want to Remote Desktop your computer from any Windows Vista or Windows 7 computer only you can select "Allow connections only from computers running Remote Desktop with Network Level Authentication (more secure)".
If you want users other than Administrators of your computer to remotely access the machine from other computers you can click on "Select Users" button and specify the names of users you want to grant this privilege.
Press "Ok" button on all Windows to accept and confirm your configuration and selection.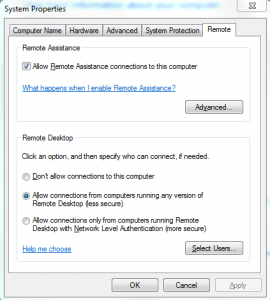 Technical Info:
Remote Desktop uses Tcp 3389 port to connect to other computers and the protocol used is Remote Desktop Protocol (RDP).