How to Install New Fonts in Windows Server 2008?
Although it is very unlikely that you will ever use Windows server 2008 to type documents. To take this discussion further it is also unlikely that you will ever add additional fonts in order to beautify your documents. However even if you want to add additional fonts to Windows server 2008 fonts library you are required to install them. Installation process of new fonts is slightly different as compared to the process followed to install any other application. Step-by-step procedure of installing a new font in Windows server 2008 is given as below:
1.       Make sure that the account you have used to logon to Windows server 2008 computer has administrative privileges.
2.       After the successful logon click on Start button and from the opened menu click on Control Panel.
3.       On the Control Panel window double-click on Fonts icon to open the new window.
4.       On the Fonts window click on File menu.
5.       From the expanded menu list click on Install New Font option.
6.       On the appeared Add Fonts box locate the font file by browsing through Folders section.
7.       Available fonts will then be displayed under List of fonts list box. Choose the appropriate font by clicking on it.
8.       Once selected click on Install button to install the new font.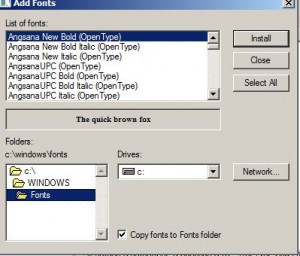 Add New Fonts
Note: Multiple fonts can be selected by clicking on the font names while pressing Ctrl key at the same time. Alternatively you can also click on Select All button to select all the fonts displayed in the list. Once multiple fonts are selected you can then click on Install button to install several fonts in a single go.