How to import email addresses from Facebook to Gmail
If you want to import the email addresses of your frient to your Gmail account you can do it. But the method is a little bit complicated. For that you will need a Yahoo Mail account. If you don't have one go and and create one. After you have done that go to Contacts Tab and from Tools choose Import. Here you can omport all the contacts from Gmail Windows Live Hotmail and of course Facebook.

Click on the Facebook icon and now you should login to your Facebook account. All the contacts from Facebook will be imported automatically. After you finished importing the contacts to your Yahoo Mail Account you should....yes... export all the contacts. Go again in Tools menu and choose export. Export the contacts in Yahoo! CSV format or Microsoft Outlook .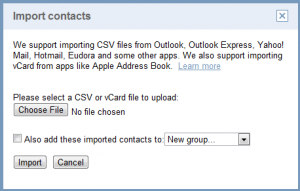 The rest is simple. Login to your Gmail account go to Contacts (from the sidebar)-> More Actions-> Import. From hhere choose the CSV file you saved from Yahoo Mail account and click on Import button. All the contacts from your Facebook account will be imported to Gmail.
I hope that Gmail will permit in the future to import contacts directly from Facebook. Finally i saw any utility to my Yahoo! Mail account. Besides Yahoo Messenger :)