Lock your CD/DVD with CDRom-Lock
If you are sharing your computer you don't want someone mess with your computer. Of course if you are away from your computer you won't be able to control who use your computer and for what so people will use your CD-Rom drive without your permission and you  won't even know that they used it they will use it to copy and paste files from and to your PC.
If you are looking for away to lock your CD-Rom drive unfortunately there isn't an option in windows to lock CD-Rom drive but you can use a free program called CDRom-Lock.  This small program blocks the eject button at almost every CD/DVD drive and gives the user the power of controlling the CD/DVD drive by a small icon at the windows system tray.
You can download the application at http://sourceforge.net/projects/cdrom-lock .
Save the setup file on your computer then install it After installation then you will be able to see the application icon in the windows system tray open the application it has sample interface by default the interface in German.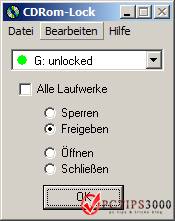 To change it to English Click on Bearbeiten > Optionen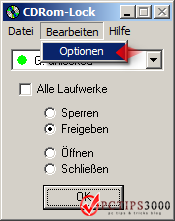 Choose English > Aplly you can set a password to unlock the drive for more security.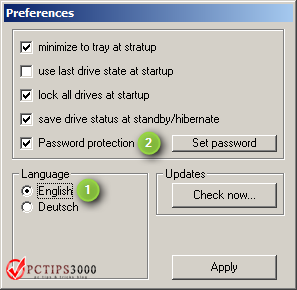 To unlock your CD/DVD tick unlock > Ok .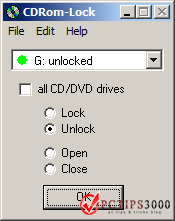 Note: for non advanced users I don't recommend  for you to use password to unlock your CD/DVD i tried it and didn't work good for me the program was tested on windows 7 and worked perfectly.