How to Use Windows Server 2008 as Telnet Client?
People who are familiar with Microsoft Windows XP and Windows server 2003 architecture they know how to use Telnet in order to connect to any remote computer through command line. Telnet although has the same process and in every platform it works identically however in Windows server 2008 and Windows 7 platforms initialization of Telnet client requires some additional clicks. Whatsoever the case is Telnet in Windows 7 and Windows server 2008 still works on port number 25 and administrators still require command line interface to use the feature. Once Telnet client is installed administrators can use the feature in the same manner as they used to do in the legacy versions of operating systems and in routers. As an administrator of a Windows server 2008 computer if you want to use Telnet you need to install Telnet client feature steps to which are given as below:
1.       Logon to Windows server 2008 computer with the account that has elevated privileges.
2.       Click on Start button and from the available menu choose Server Manager option to click.
3.       On Server Manager Window from the left pane click on Features and from the right pane click on Add Features link.
4.       On Select Features window click on Telnet Client checkbox to check it and click on Next button to go to next window.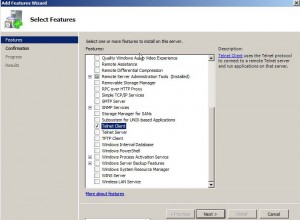 5.       On Confirm Installation Selections page click on Install button to start Telnet Client installation process.
6.       Restart your computer if required.