How To Secure Your Windows 7 Computer From Virus Attacks Without an Anti-Virus Software?
Virus is a common problem that everyone faces while using computer and internet. It makes system slow to the extent that after some time it becomes mandatory to remove the operating system and re-install Windows right from the scratch.
To eliminate this tedious process and to protect Windows from getting corrupted every now-and-then almost everyone uses Anti-Virus programs which are quite expensive and require regular updates from the internet.
This section will tell how to secure Windows  using some of its built-in features hence eliminating the need of any Anti-Virus program.
In order to do so two user accounts are required. One with administrative privileges and the other with limited access. However the first user account with administrative privileges is created by default when Windows 7 is installed. To create another user account follow the steps below:
Click on "Start" menu and click on "Control Panel".
Under the "User Accounts and Family Safety" category click on " Add or Remove User Accounts" link.
From the opened Window click on "Create a New Account".
In the next Window type the name of new user account. (Eg. John Smith)
Make sure "Standard User" is selected in the available  radio buttons.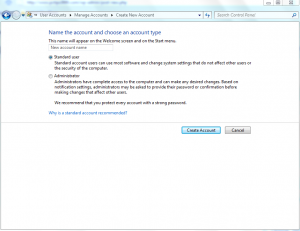 Click on "Create Account" button to complete account creation process.

To assign password to the account click on the icon of newly created account.

From the next Window click "Create a Password" link.

In the "Create Password for xxx Account" Window type and confirm the desired password. Also type some hint to the password in "Type Password Hint" text box.

Click on "Create Password" button to create password.
Once a standard user account is created it should be used on regular basis for daily tasks. Because this user account has least privileges no virus program can automatically get placed on C: drive. or any other secured location like "Program Files" "System32" etc. This can be tested by logging on to the computer with standard user account and trying to create a new file on C:. The access will be denied thus making the system secured from almost all kinds of virus programs without using any Anti-Virus software.