Install and Enable Remote Assistance in Windows Server 2008
Unlike other Microsoft operating systems where Remote Assistance feature is by default enabled in order to allow users to offer or request technical help from a technically skilled professional Windows server 2008 looks at Remote Assistance as a separate and individual entity. This means that if a Windows server 2008 user needs to use Remote Assistance he needs to install the feature in order to do so. This further means that this configuration enhances the security which of network operating system and as an administrator if you want to install Remote Assistance feature on a Windows server 2008 computer you need to follow the steps given below:
1.       Logon to Windows server 2008 computer (domain controller member server or a standalone server) with any account that has administrative privileges.
2.       Click on Start button and from the available menu click on Server Manager option.
3.       On the opened window from the left pane click on Features option and from the right pane click on Add Features link.
4.       On Select Features page click on Remote Assistance checkbox to select it.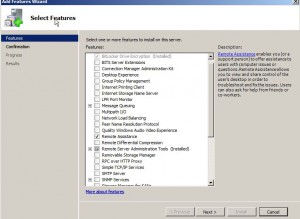 5.       Click on Next button.
6.       On Confirm Installation Selections page click on Install button to start Remote Assistance feature installation process.
7.       Restart the computer if prompted you don't need to though.