Install Multiple Programs at Once With Ninite
This is not a tip this is an answer to a problem a lot of people simply don't realize they have. To put it all in just two words the problem is called "wasted time" while the answer is even shorter and easier to remember - Ninite and nothing else! Sure Ninite is not the only one of its kind but that's a whole different story that we won't touch today.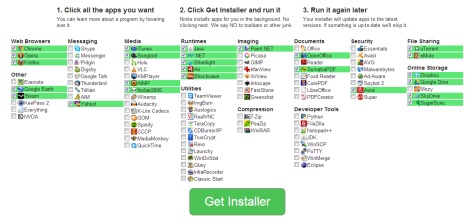 In my world the "wasted time" problem translates to "I have to install Windows on a buddy's computer and I also have to download and install those damn programs he's using" or something like that I won't get too much into the details but the idea is that Ninite is a great tool to help anyone save A LOT of time. Sure there are still a few BIG apps missing from Ninite.com (Maxthon for example or the fact that there's no File Management category there yet) but working with it is as easy as 1-2-3: you select the apps you need download the tiny installer run it on the computer that you want and... wait for the downloads and installs to complete - no toolbars and naggies will be installed and you won't have to click any OK or Next buttons. Is this awesome or what?
Ninite is free but you can get Ninite Pro and take it all at a whole new level - faster installs more control a totally silent mode available extra apps and so on. I won't get deeper into it I think it's enough to say that NASA is one of the big users of this version... and that's all folks! :)