Windows Setup on USB, As Easy As It Gets!
DVDs and CDs should be dead by now yet it amazes me when I see how many people are still using Windows CDs and DVDs to install the operating system on their computers. Speaking for myself I left those days behind and each time I have to take care of someone's computer or when I'm radically upgrading mine I use the Windows setup on USB flash disk approach. We won't talk about the advantages of this method since the goal of today's article is very narrow - we only have to check out one of the best if not THE best Windows setup on USB free software that one can use to turn a Windows setup disk into a Windows setup USB disk.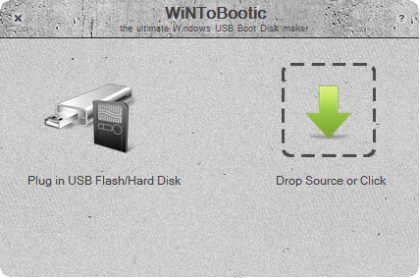 WINToBootic's friendly interface - this and nothing moreWiNToBootic is the name and this is the homepage of this free piece of code for the Windows platform. This freely available program is a boot disk maker focused on Windows 7/8 that can easily create bootable USB flash/hard disk drives in a jiffy supporting ISO CD/DVD and even folders on your hard drive as sources. Offering support for NTFS probably the best two things about it are its ease of use and the fact that unlike most similar programs there's nothing to install - all you need is the standalone program and nothing more!
Once you get the archive containing the WiNToBootic software you can directly launch the executable file and create a bootable USB drive. Speed may vary a lot depending on the drive used - for example it took me 12 minutes to create a Windows 7 Ultimate USB stick using a device connected to a USB 2.0 port that device being an 8 GB Kingston DataTraveler G3 flash drive. If you managed to score less please drop a comment and let us know it would be interesting to find out how fast can go WiNToBootic when creating bootable flash drives on devices connected via USB 2.0. That's all folks! ;)