Installing Backup Features in Windows Server 2008
With the latest release of Windows server 2008 Microsoft has improved some features and backup feature is not left behind in this regard as well. Unlike legacy versions of Microsoft-based Network Operating Systems like Windows 2000 server and/or Windows server 2003 in Windows server 2008 Backup Features are now required to be installed before administrators can start using them. Windows server 2008 consists of around 34 features which can be installed and used to make the operating system versatile and easy to use and Backup Feature is among one of them. As a Windows server 2008 administrator if you want to install Backup Features you are required to follow the steps given as below:
1.       Logon to Windows server 2008 with any account that has administrative privileges.
2.       Click on Start button and from the appeared menu click on Server Manager.
3.       On the opened box from the left pane click on Features.
4.       From the right pane click on Add Features link.
5.       From Select Features page check Windows Server Backup Features checkbox and click on Next button.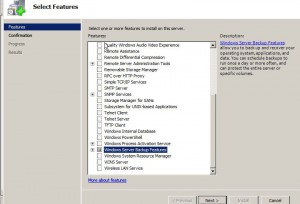 6.       On Confirm Installation Selections page click on Install button to start the installation process of Backup Features on Windows server 2008.
7.       After the installation is successfully complete you can back up your Windows server 2008 operating system to ensure that you are prepared for any disaster and have taken a proactive approach to face any mishap that may occur to the data.