Installing Windows Server 2008
Windows Server 2008 is the latest release in the category of Network Operating Systems offered by Microsoft. This latest release has several new features which were not present in legacy versions and the ones which were present were not as easy to configure as they are in Windows Server 2008. However very first thing while getting started with Windows Server 2008 is installing it. In order to install Windows Server 2008 on your computer u need to follow the steps given below:
1.       Power on the computer and set first booting device as DVD from BIOS setup.
2.       Insert Windows Server 2008 installation disc in the drive.
3.       On the first appeared page click on Next button and then click on Install now button.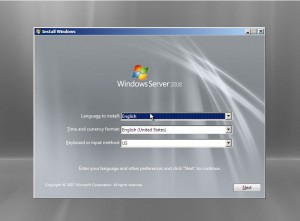 4.       On Select the operating system you want to install page click on Windows Server 2008 Standard (Full Installation) and click on Next button. (You can also choose Enterprise or Datacenter to install as well but make sure you choose Full Installation in any case).
5.       On Please read the license terms page check the only available checkbox to accept the terms and conditions of the agreement and click on Next button.
6.       On the next page click on Custom (advanced) link to proceed.
7.       On Where do you want to install Windows? page click on Disk 0 Unallocated Space and click on Next button to assign the entire disk space for C:. Alternatively you can click on Drive options (advanced) link to make appropriate modifications as required.
8.       Installation process will begin and you are required to wait till it finalizes.
9.       Once done you will be asked to specify the password for Administrator account of the machine.
10.   Once you have completed the steps you will have Windows Server 2008 installed on your computer.