Organize Your Portable Apps Easily With SyMenu
SyMenu is a free file management utility that helps you to organize all the portable apps stored in your PC. Organizing installed apps is not a difficult task and can be done manually but portable apps are not available for access like other apps like the Start Menu or desktop shortcut. That's where this free portable app manager comes in.
If you want to get easy access to your portable apps SyMenu is the best option for you. Keeping track of portable apps can be really difficult if they are not stored in one folder. But now you don't have to worry about it as SyMenu is there to help you. This free portable application manager is designed for handling portable apps but you can also organize installed apps documents folders and other things using this freeware.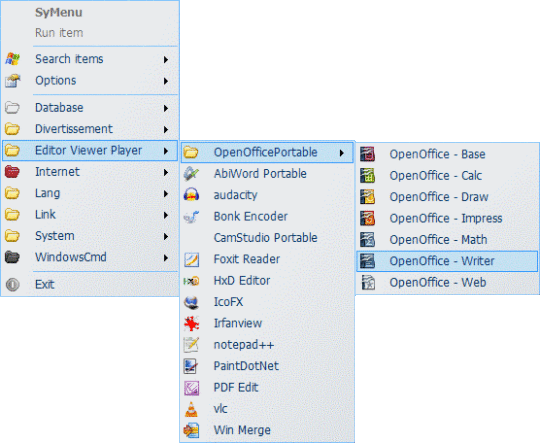 This free portable app organizer is very easy to use and comes with drag-and-drop functionality. You can access to SyMenu from the system tray icon. You can start adding programs by following the setup guide included in SyMenu. As you can see in the screenshot SyMenu looks just like the start bar. It's like creating a start bar for your portable apps. If you want to manage all your portable apps in a smart way you should definitely try SyMenu.
Features of SyMenu:
Organize your portable apps in a smart and easy way
Supports organizing documents installed apps and Windows commands
Simple easy-to-use
SyMenu is available for download at UGMFree's website. It's only 672KB in size and supports Windows 2000 or higher. Try SyMenu Free