Protect Computers from Spywares with Spybot Search & Destroy 1.6.2
Spybot Search & Destroy is a freeware application and can be downloaded from the official website without even any registration. The software is capable of searching and deleting any spywares that exist in users' computers. For those who don't know spywares are small programs which are downloaded into the system along with any downloadable program. Once spywares enter a machine they start sending personal information of the computer and the user to a third person. Third third person can then use personal information to gain access to the computer and steal sensitive data from it. However with the help of Spybot Search & Destroy users can protect their computer systems from these spyware free of cost.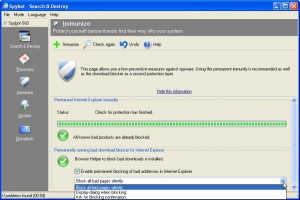 Pros
The application works in the background and protects the computer for real-time activities. This means that it monitors all incoming packets for any malicious program.
The application can be updated with the latest definitions and the update file can also be obtained from the vendor's website.
Technical support is available for the product in case users face any difficulties while using the application.
Cons
Even though Spybot Search & Destroy is an efficient application in finding and deleting spywares it cannot work as a full-fledged firewall that can find every virus present in user's computer.
Download Link: http://www.spybotupdates.com/files/spybotsd162.exe