IObit Advanced Uninstaller, Freebie of the Day!
I love freebies. To be honest I never got severely disappointed by a software or hardware freebie while my rather expensive power supply that died taking away my hard drive and a lot of data with it didn't come for free... and the flash drive with the important data backed up & corrupted wasn't free either! Anyway today I have to tell you just a few words about an email full of good news that I just got. This message starts by saying...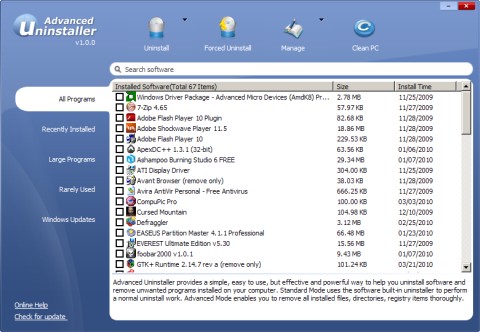 "Boston MA (IObit) March 22 2010 – IObit today announces the release of Advanced Uninstaller a free lightweight software uninstall utility designed for uninstalling unwanted applications and removing stubborn files and folders installed on your computer." I know it's not an email just for me it's a press release-style message but who cares? We're talking about more freebies for Windows users!!! ;)
The free software of the day comes from IObit and while its name is nothing really new or original (to be honest I have no idea how many "Advanced Uninstaller" programs I saw until now) I must admit that I installed the thing played with it for a few minutes and since I write this it's not bad at all...
That's all folks so let's draw the line - Advanced Uninstaller works on Windows 7/ Vista/ XP/ 2000 (32bit or 64bit) offering multi-language support. For more information feel free to take a look at the product homepage here. Good luck and be sure to have a look around there are some other free goodies from IObit waiting for you on that page!