Need More Than Windows Task Manager?
Ctrl+Shift+Esc is the shortcut used by those who want to be different while Ctrl+Alt+Del is the path followed by most Windows users to reach Windows Task Manager but for those who think they need to know more about what's happening inside their computers starting up (once installed of course) System Explorer is the thing to do!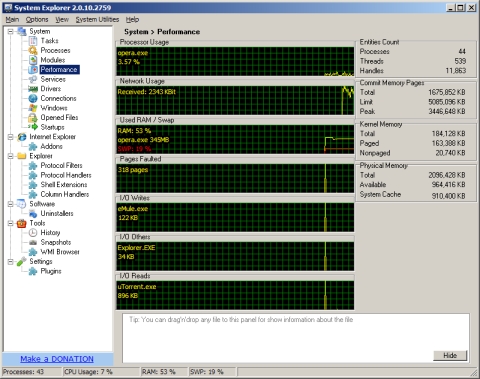 Obviously System Explorer doesn't come with Windows and it doesn't replace Windows Task Manager either. Sure you can get Microsoft's Process Explorer previously known as Sysinternals' Process Explorer but if you want to try something new... here you go - System Explorer is absolutely free fully compatible with Windows 7 as well as some previous Windows versions including 64-bit ones.
Why would you need more than Windows Task Manager? Here's a great feature that System Explorer has - right click a task process or module choose File Check and then send it to VirusTotal or Jotti's malware scan without having to use a Web browser for that. Sweet!
The last feature that I'll tell you about now is simply called Memory Cleanup and does what it says - nothing less nothing more. To use it open the System Utilities menu and click Processes Memory Usage Cleanup. That's it!
Sure we could talk about this program for hours since there's much more to System Explorer than meets the eye but I don't want to spoil your fun so I'll stop here. Just remember to go here and grab this awesome utility. Good luck! ;)