I don't know if you're planning to get a job in India but if you're from there and still looking for a job you may find that a service like Bixee can be a really strong helper in your task to be exploited for a few coins... ehem land a job! ;)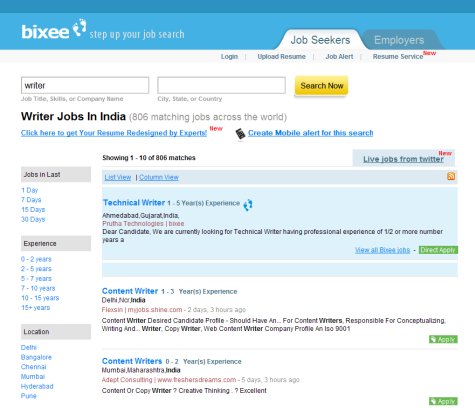 Since today I feel really not in the mood for Firefox I decided to find something interesting and why not a job in India? I don't know what you think about India but I really love their food and some of those long romantic comedies with a lot of music and dancing in them so one day I will surely visit that country even though I may not really feel anxious to work there.
Now what about Bixee? Bixee.com is obviously a job search engine for India and even more a living example if I can put it this way of both vertical search and metasearch. The site looks good works like a charm and according to the official description it's "one of Asia's largest hybrid job portal with about 1.5m active jobs at any given point in time" so if you don't believe that let me just give you a hint: searching for "writer" I found 6412 matching jobs. Not bad at all don't you think?
Well I guess this is it for now folks. I hope you'll find Bixee useful or if this sounds like something out of reach I think you may know someone who may be interesting in finding some jobs in India. ;)