Stylish: Free Chrome Extension
Stylish is a free Chrome extension that allows you to take control over your favorite web sites' appearance. You don't need any knowledge on HTML codes to do this once you start using Stylish. Let's see if this freeware is worth trying for Chrome lovers.
Sometimes we wish to change a part of our favorite website that we visit everyday. Normally it is quite impossible to do that but now we have to Stylish to help us. You can add something to your favorite website delete things enable or disable organize your favorite website with just a few clicks. You can edit your favorite sites without any previous knowledge on HTML codes or facing any complex configuration using this free Chrome extension. You can now even think about changing the appearance of Facebook or CNN to make them look more interesting for you.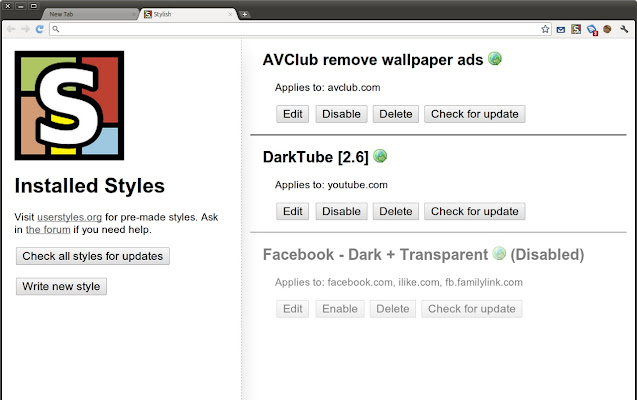 The installation process is quite easy. If you have used Chrome extensions before you will find the process quite easy. Once this free Chrome addon is installed you can go to different web sites and try the styles included with Stylish to spice up your favorite web sites' appearance. If you don't like the styles included with this freeware you can change things manually enable or disable styles whenever you want.
Features of Stylish:
Get complete control over the appearance of your favorite web sites
Add delete manage edit and organize styles easily
Simple user-friendly
Stylish is available for download at Chrome Web Store. It's 30KB in size and is available in 5 different languages. Try Stylish Free