Know About Your Computer with CPU-Z
CPU-Z is a freeware application that is used to collect hardware related information from a computer system and can be used by the people who ask "What is my computer configuration?" The application is lightweight and needs not to be installed on your computer. On the contrary it runs directly from the executable file and starts gathering the information when initiated. You may want to use CPU-Z if you are in an organization where you are recently hired and you want to collect the information of every computer instantaneously. This application expedites the process of hardware information collection by working as one-stop shop for the administrators. CPU-Z application is also quite handy for home users as they are not expected to know each and every configuration of the computer system they own. With the help of CPU-Z they can gather the information of their own PCs and can then use the collected data for maintenance purposes and gauging the hardware compatibility while playing high-definition games and/or using multimedia applications.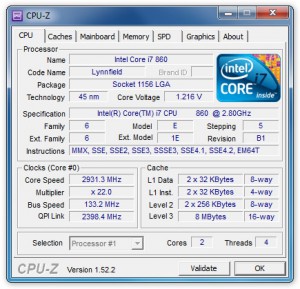 Pros
CPU-Z is a freeware and is very small in size which makes it easily downloadable.
It supports wide range of hardware resources from which it can gather information.
The ambience and interface of the application is user friendly which makes it operable even by home users.
Cons
Download Link: http://www.cpuid.com/softwares/cpu-z.html