Learn Real Routing and Switching with GNS3
Graphical Network Simulator or GNS3 is a freeware application that simulates routers and switches used in Cisco studies. Although the name says that the application is a simulator it works on real IOS images which are used in real Cisco routers. The application is versatile in nature as it can configure itself with IOS images of almost any series of routers provided the appropriate image is mounted in the software. GNS3 can also communicate with the real network when mapped with the real LAN card of the machine on which it is installed. Since it uses real IOS images the students get real-time experience while working with the software.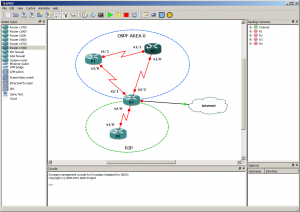 Pros
The software is free to download and install and is easily available from its official website.
It provides graphical user interface which enables students to interact with the application more conveniently.
Network topology once created can be saved as a file and can be imported back on any other computer running the same application hence making the entire topology mobile.
Global commands can be provided in the graphical user interface of the application in order to control all virtual devices (routers and switches) through a single command.
Cons
Since GNS3 is not a simulation program and allows users to work with virtual routers and switches excessive processor usage can be experienced sometimes.
Download Link: http://www.gns3.net/download