Play Real Music Virtually with Electronic Piano 2.5
Electronic Piano is a freeware musical tool that allows amateur users to practice and learn piano right from their computer systems. With the help of this software users can use their keyboards to press the keys of electronic piano hence experiencing the real ambience and feel of piano virtually. The software can be configured to play several different music types as per the choices of the players. The file is extremely small in size and is downloaded in a compressed .zip file. Once the application is installed after extracting it from the compressed file it can be initiated from the start menu and accessories folder.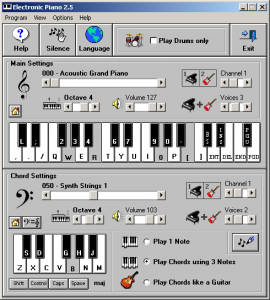 Pros
Total file size is 0.5 MB approximately and therefore it gets downloaded practically within no time.
The application offers several combinations which allow users to experience real-time music output.
Complete help is provided with the application which can be used by novice users to get mastered in the application and real instrument as well.
Because of hundreds of features available in the application it can also be helpful for professional music players.
Cons
Electronic Piano is only compatible with 32 bit operating systems (for now) however it is expected that 64-bit compatible version will soon be released by the company.
Download Link: http://www.pianoeletronico.com.br/index-en.html