Make Your Voice Funny with Funny Voice v1.3
Funny Voice is a freeware entertainment tool. People can download it from the official website and can use it for converting their normal voices to the funny ones. These funny voices can also be recorded with the help of this software. Users can use these voices for creating funny ringtones or adding some comic effects in any presentation or animated movie. Since the software is very lightweight it gets downloaded within no time and is a portable application as well. This means that users need not to install it before executing the application. Users can also create a shortcut on the desktop in order to make accessibility of the application easy.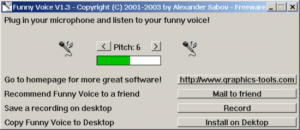 Pros
The application works offline and when once installed Internet connection is not at all essential.
Several levels of pitches are provided in the form of slide bar which can be adjusted as per the requirements.
Application is portable and lightweight and therefore virtually no processing or RAM is required by the software while running.
The software also consists of a button using which users can recommend this free application to any of their friends and can enjoy the funny voices and tones in a group.
Cons
The application consists of very few controls and does not have any help file.
Download Link: http://www.graphics-tools.com/freeware/freeware.html