Recover Data with Data Recovery Software for NTFS
Data Recovery Software for NTFS is a shareware application which is mostly liked by the professionals and home users because of its versatile nature. As the name says the application is capable of recovering deleted files or folders from any NTFS storage media. Mostly these types of storage media devices are internal or external hard disk drives. However users may also try recovering deleted data from any Flash drive which is formatted with NTFS file system. In order to get the feel of the application users can download free trial version which is available on the official website of the software. Software is precisely developed for Windows based operating systems and it can only perform well on Windows 2000 or higher.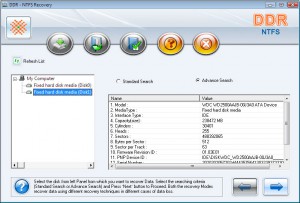 Pros
Easily restores deleted files from the media with very less user interaction and overhead.
The application can be used in production environments as well in order to get back sensitive data if it is deleted accidentally.
Repopulate File Allocation Table with the information of recovered data automatically.
Cons
The application can only restore data from the hard disk if the drive is not formatted with Full Format checkbox checked.
Though Data Recovery Software for NTFS is lightweight however recovery process may take long in order to get the work done efficiently.
Download Link: http://www.datarecoverysoftware.com/