Manage NICs in DNS Server in Windows Server 2008
In medium to large scale organizations where there are several DNS servers installed in the network infrastructure it is very likely that each DNS server may contain multiple NICs. Also as default nature of DNS server it is configured to accept the requests from each and every NIC that is installed on it. In some cases this configuration is quite handy and administrators need not to modify this in order to make the network infrastructure run smoothly. However in some scenarios where bottlenecks to the DNS servers can be an issue administrators may want to limit the NICs from which the DNS server may expect the requests. As a DNS administrator in any infrastructure where Windows server 2008 is installed if you want to limit the number of NICs through which a DNS server can expect the queries you need to follow the steps given below:
1.       Make sure that you are logged on to Windows server 2008 with the Administrator account.
2.       Open DNS Manager snap-in by going to Administrative Tools.
3.       From the opened snap-in right click on the name of the server and from the appeared menu click on Properties.
4.       On the opened box make sure that you are on Interfaces tab.
5.       From the available radio buttons click on Only the following IP addresses to select.
6.       From the enabled IP addresses list uncheck the checkboxes representing the NICs from which you do not want the DNS server to accept the requests.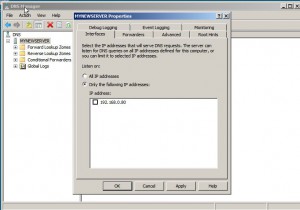 7.       Once done click on Ok button to make the changes permanent and finally close DNS Manager snap-in.