Specify Primary DNS Suffix to Windows Server 2008 Computer Name
When a network infrastructure is small and no Active Directory Services feature is required to be installed installation of DNS server is very easy. However when the network infrastructure is upgraded from peer-to-peer to Active Directory client/server setup it is practically not advised to uninstall DNS services and let Active Directory Services installation reinstall it. Instead most administrators prefer defining Primary DNS Suffix to the computer names so that they can be recognized by the DNS server during the installation of ADS. Defining primary DNS suffix to any computer although requires a system reboot but it eliminates the lengthy and tedious task of uninstalling the DNS server and going through the steps all over again during ADS installation. As an administrator if you want to specify a DNS suffix for any computer you need to follow the steps given as below:
1.       Ensure that you are logged on to the computer with any account that has administrative privileges. (In this example Windows server 2008 is used).
2.       Click on Start button and from the available menu right click on Computer.
3.       From the list click on Properties.
4.       From the opened window under Computer name domain and workgroup settings section click on Change settings link.
5.       On System Properties box make sure that you are on Computer Name tab and click on Change button.
6.       On Computer Name/Domain Changes box click on More button and in the available text box of Primary DNS suffix of this computer type the name of the zone you have created during the configuration of DNS server.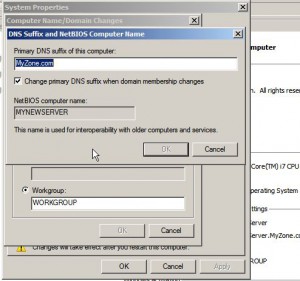 7.       Once done click on Ok buttons on all the opened Windows and click on Restart Now button when prompted by the system to allow the changes to take effect.