Publish Your Imagination with Advanced GIF Animator
Advanced GIF Animator is an application which is most liked by designers and animators because of its versatile and flexible user interface. The software allows the designers to edit create and customize GIF animated images according to their requirements. The application also enables users to specify the frame rate while creating an animated GIF image. With the help of the latest release of this animator software animators can create sophisticated banners for the websites. As GIF images and animations are lightweight they do not make the site sluggish. On the contrary because of lightweight banners the site becomes even more attractive and realistic.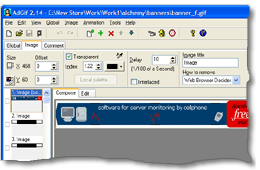 Pros
The application is small in size and its demo version can be downloaded from Advanced GIF Animator's official website.
The interface is easy to understand with self-descriptive tools and buttons which makes the operation of the application easy.
The software supports almost every file format to which users can save their creations.
While purchasing the application for commercial purposes the vendor offers decent discounts as per the plans.
Cons
Although the operation of Advanced GIF Animator is quite simple because of its easy to understand user interface however users still need to have basic understanding of animation and designing.
Download Link: http://www.gif-animator.com/download.html