Monitor The Active Clock of Each Individual Core with TMonitor
TMonitor is a free system utility that helps you to monitor the active clock of the cores Core i3/i5/i7 and Intel Core 2. If you are using AMD processor don't worry as this free core monitoring software also works with AMD K10 processors. If you want to load your CPU up with multithreaded workload like Prime95 TMonitor is the best option for you.
This freeware can display all of the cores running in your PC at maximum clock speed without any problem. You can increase the load of work in your PC once you fire up this freeware. If your processor comes with the latest Intel Turbo Boost Technology this freeware will show the boosted frequency too. Earlier there was no way to monitor Intel Turbo Boost's effect but now you can as TMonitor is here to help you.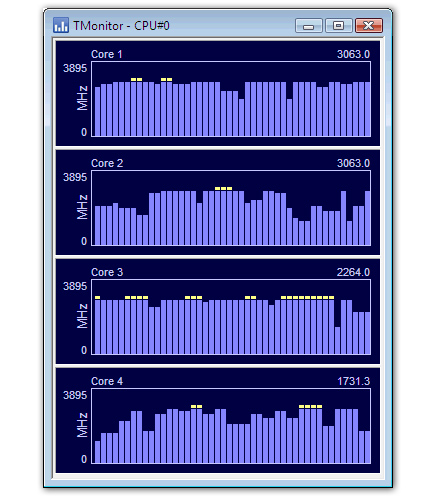 Using this freeware is really easy as this freeware comes with a user-friendly interface. This freeware comes with a very high refresh rate which allows the users to visualize the clock variation in real time. As there are physical CPUs in your PC you can run as many instances of this free core monitoring software as you want. You can use this software for minimum 15 minutes a day. If you notice large sags on some of the cores your PC has got thermal issue.
Features of TMonitor:
Monitor the active clock of the cores
Monitor Intel Turbo Boost's effect
TMonitor is available for download at CPUID's official website. It's only 613KB in size and supports Windows 7 Vista and XP. Try TMonitor Free