One Split Large File, Comin' Up!
Ever needed to split some large file? I am not talking about those times when you can easily create a multivolume archive because sometimes you just don't need a packer and specialized file splitters can be faster than WinZip or WinRar when performing this task. For example think about a 4GB ISO file that you need to burn on CDs and you'll get the idea (same thing goes for 5GB+ files that need to be placed on 4GB DVDs)...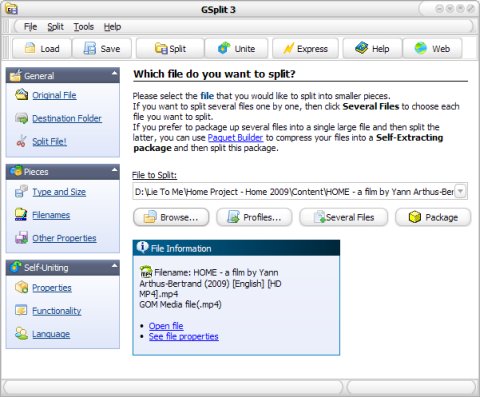 While professional file splitters aren't coming for free today I found a program that can easily be called "professional" but has a quality that commercial software won't ever have: it's absolutely free to download and use! Its name is GSplit and comes all the way from France being created by a company called G.D.G. Software.
Basically a file splitter allows you take a large file and obtain a lot of smaller pieces depending on the settings you have chosen. Sure programs like Total Commander have this feature built in but once you download and install GSplit you can forget about those primitive tools after the first encounter!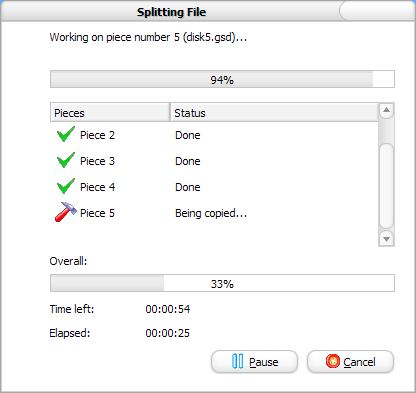 What I love most about GSplit is that I can split large files send them over to my friends and then have them unite everything back without having to install the program since this program also creates a tiny executable file that does all the hard work for them. Sweeeeet! ;)
Additional features of the program include the ability to calculate/check the checksum of a file unite existing parts if you didn't create the executable file to handle that task and... did I mention the Express mode? No I missed that one as I also missed telling you about the cool interface of the program (I am sure you saw the screenshots anyway) or the ability to split multiple files but I am sure you'll discover them all by yourselves if you'll spend enough time with this piece of code.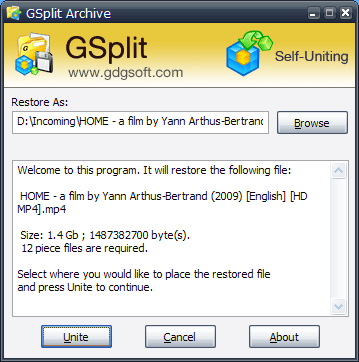 Other than all the above... I think if you want to get one split large file GSplit is one of the best choices. I wasn't able to try it with really huge files but the official page claims they can go above 4 GB. How much that remains to be seen but I really think that this free software for Windows (compatible with all Windows versions including Vista but no word about Windows 7 compatibility - maybe you can help with that one) deserves your attention as I already said.
These being said I leave you to fully enjoy another tasty piece of code one that enforces once again one of those things I'll always keep in mind: "Software is like sex: it's better when it's free!" ;)