Ookong: Amazon Price History & More
I love Amazon. I am not really what one would call Internet shopping-obsessed person but I buy stuff from the Web about once a month maybe once every two months in average. What I really love about Amazon (the co.uk flavor) is that in most cases I get really cheap shipping to my door and I don't have to bother with the customs formalities and taxes as it usually happens with products I order off eBay. Since I am not that much of a shopping freak I must admit that I'm not always spending too much time to find the best price on something I want. Fortunately thanks to today's Google Chrome extension I'll be able to spare a lot of time and some money at the same time from now on. Ladies and gentlemen get ready for Ookong: Amazon Price History & More!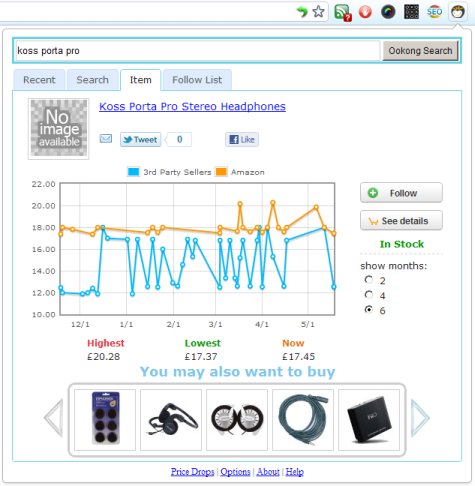 More than just providing the pricing history of a certain product Ookong: Amazon Price History & More allows its users to add items to the Follow List to get price drop notifications and even better you can also sync this list among different computers. Sure you'll also need an Ookong.com account to do that but since you can login using your Facebook credentials I think this shouldn't be much of a problem right? ;)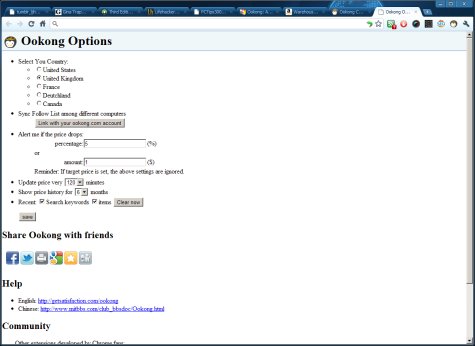 As I'm writing this the numbers around Ookong: Amazon Price History & More look pretty solid - current version of this Google Chrome extension is 4.1.1 released on the 17th of May and available in these languages - German English English (UK) French. This browser addon has a rating of 4.16/5 stars after 3160 downloads and 56 user ratings so things are looking pretty good despite that "Select You Country" option (haha) or the fact that it doesn't support eBay as well as it does it when it comes to Amazon (no surprise here given the name...). Anyway the idea is that Ookong: Amazon Price History & More is a Google Chrome surely worth checking out and I'll surely keep it around for a long time. What about you do you fell the same or not?