Toolwiz BSafe: Free Encryption Tool
Toolwiz BSafe is a free encryption tool that helps you to protect your important files and documents easily. You can store all your precious files in a virtual safe where all your important or secret files will be safe. Let's see if this freeware is worth trying or not.
If your computer is used by other people they can easily try to look into your files while you are away. So if you are worried about your files safety and want to protect them from unauthorized access it is time that you start using Toolwiz BSafe. This free personal encryption tool can help you to create a virtual drive that can be locked and unlocked with a password. You can store your files there just like a normal hard disk and the files will be encrypted when you are transferring them. Once you close the safe the virtual drive will be dismounted and people won't even know there was a virtual drive there.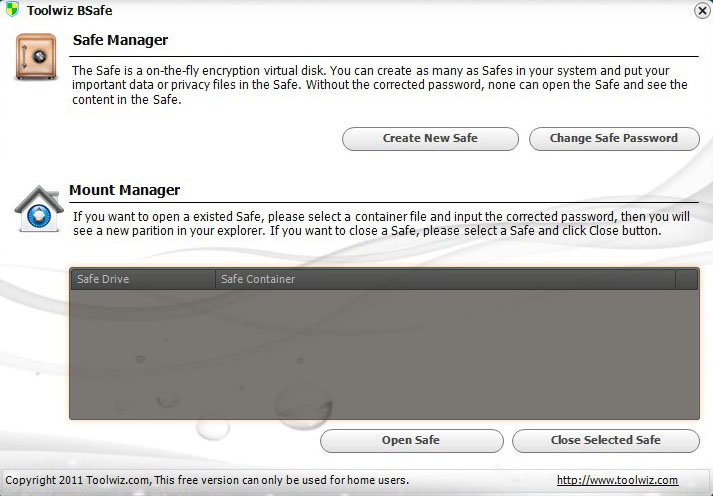 This free security software comes with an attractive interface and eats very little resource while running. Moreover there is no limit about creating virtual safe so you can create multiple numbers of safes if you want. You can set the size of your virtual safe and the limit of file numbers you can store in your virtual safe using this free personal encryption software.
Features of Toolwiz BSafe:
Protect your precious files easily
Encrypt your files and store them in a secure virtual safe
Lightweight easy-to-use
Toolwiz BSafe is available for download at Toolwiz's official website. It's only 1.1MB in size and supports Windows XP or higher. Try Toolwiz BSafe Free