PC Brother Software Administration Free: Free System Utility
PC Brother Software Administration Free is a free system utility that helps you to manage software and all the installed programs in your PC. If you are willing to download a software this freeware can help you to find it. This free software managing utility can help you to install uninstall download and recommend software.
You can terminate all the running processes in your PC uninstall and install programs and look for new apps with this freeware. Moreover this freeware can uninstall all the free programs installed in your PC and suggest you some good paid software to replace them. Not all the software it suggests are paid and some of them are free. But it won't be a problem if you are not worrying about the money and want to keep all the good paid programs in your PC.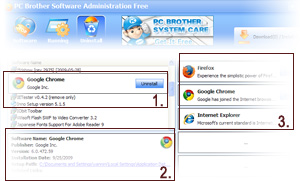 If you have used other apps developed by PC Brother Software you will find the interface quite similar. You will find only three buttons on the main window Running Software and Uninstall. The software page will take you to a catalog with a list of software and their prices. Clicking on the running button will take you to the list of processes running in your PC. If you are ready to replace your free programs with sharewares this free software management app is just for you.
Features of PC Brother Software Administration Free:
Manage software and installed programs in your PC
Install and uninstall app close unwanted processes
Replace your programs with better software
PC Brother Software Administration Free is available for download at PC Brother's official website. It's only 2.62MB in size and supports Windows XP or higher. Try PC Brother Software Administration Free