Puran Defrag Free Edition: Free Defragmenter for Windows
Puran Defrag Free Edition is a free disk defrag utility that helps you to optimize and defrag your hard disk efficiently. You can keep your hard disk clean in this way and avoid big defrag jobs easily.
There is a defragmentation utility available in Windows but it won't run in the background and work automatically like Puran Defrag Free Edition. This free defragment utility will defragment boot sectors of your PC for presenting you faster start-up. Moreover it will increase your PC's speed with its intelligent optimizer boosts. If you are a pro PC user you can also try the command line. You can try this app for selected folders and files too. If you are using any system resource eating software you can try the low priority defrag option for enjoying work while defrag experience.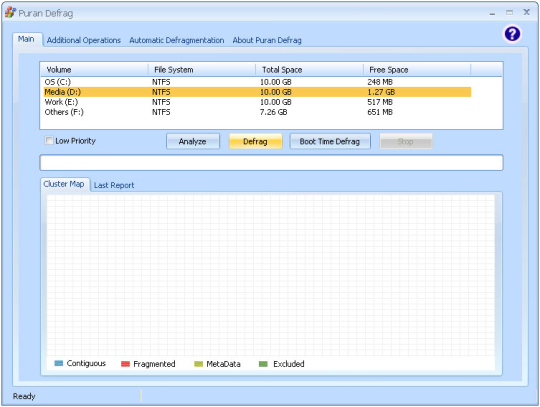 This free defragment utility is really easy to use and comes with an attractive user-friendly interface. You will find a good Help file inside this freeware. You just have to select the drive you want to defragment and it will show you the fragmented data after analyzing. Once you are ready to start defragment process click Defrag. If you want to crease your PC's speed you can try the Puran Intelligent Optimizer.
Features of Puran Defrag Free Edition:
Increase your PC's speed with PIOZR rechnology
Automatic Defragmentation system for avoiding manual defragmentation
Defrag system files with Boot Time Defragmentation
Puran Defrag Free Edition is available for download at Puran Software's official website. It's only 3.26MB in size and supports Window 7 Vista XP 2008 and 2000. Try Puran Defrag Free Edition Free