Rapidshare Alternative Of the Week – Diglo
Finding Diglo today's subject was pretty easy. On the other hand uncovering all its secrets is still ongoing work for me so I can only hope there's nothing really evil hidden inside. Well it surely has a huge Terms of Use document with the usual stuff you don't want to think about (to make a longer story short they can remove your files without asking any questions if they want - just don't be afraid it's not exactly like that) but let's get back to the start shall we?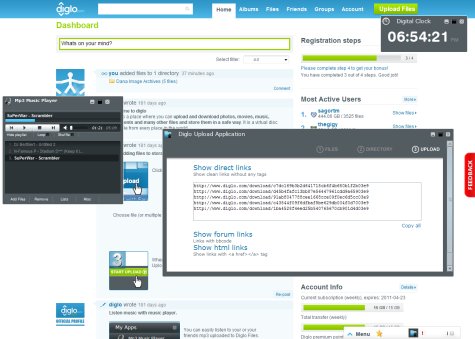 Diglo is more than just another RapidShare alternative since you can't do anything without creating an account but that free account gives you more features than a lot of premium subscriptions offered by similar sites. Since I feel little in front of such a giant find I'll be a bit of a coward and give you a taste of the official mumbo-jumbo I bumped into while wandering around Diglo - "Diglo is a place where you can upload and download photos movies music documents and many other files and store them in a safe way. It is a virtual disc available from every place in the world."
What's so special about Diglo? Well I could say that this is a file upload service with a social networking twist and a bunch of interesting Web apps - for now I can only see the Digital Clock and the MP3 Music Player there but they're better than nothing. Sure the real awesomeness starts with the ability to transfer files via FTP get 15 GB of weekly transfer bandwidth virtually no size limit for your files and a life of 90 days after the last download until your files get deleted.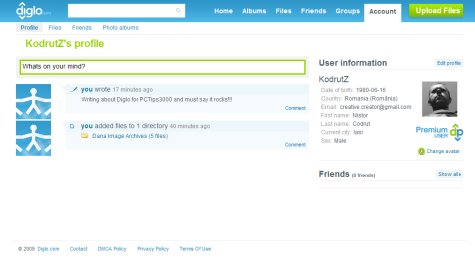 Sure there are also some strange things about this RapidShare alternative for example the fact that you can easily select multiple files to upload but you don't get any progress bar to see how's everything going not to mention once again that using it may not be really straightforward to a lot of people and the documentation is surely pretty confusing... ... so please feel free to help and drop a comment below with Diglo's good and bad parts since all I can tell you for now is that I got my account and I'm backing up some of my personal photos already so - until proven otherwise at least - everything's just great in my book! ;)