Rapidshare Alternative Of the Week - FileSend
On the Web there is no perfect site only great ideas with room for improvement. That's why giants like YouTube Google Search or Digg got competitors - they may be great but they're far from perfection. Same thing goes when we're talking about RapidShare - it's enough to remind you of the wait time required for free users and those captcha texts and you'll surely agree my little find today is much better. Sure this one's not perfect either as we're going to see a bit later but now please allow me to introduce you FileSend!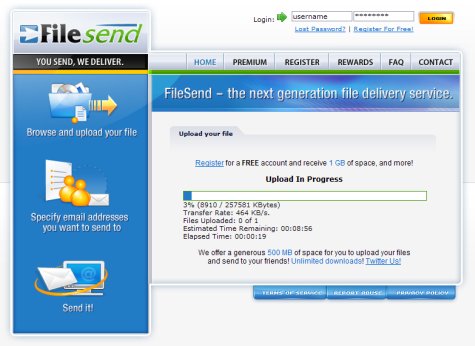 While its name may not be original FileSend surely gets the job done properly. Every time I find a new tool from this category there are three major things to check: file size limits upload/download speeds and ease of use (captchas and wait times surely won't help here!). To be honest I simply don't care about the advantages of paid accounts. I paid for my hosting plan I can host my files to share with friends there I don't want to pay for RapidShare or anything like it got it?
With FileSend the things look like this: without bothering to register an account you'll be able to upload files as large as 500MB (this is the upper limit but you can get a free account and increase it to 1GB) upload speed is insane (as you can see in my screenshot I went well above 400KB/s) download speed is really low (about 20KB/s or so that's all I managed to get) and - best of all - there's no captcha and no waiting time when you're downloading a file. Is this awesome or what? Please give this online service a try and drop a comment below with your opinion you won't be wasting your time! ;)