Rapidshare Alternative Of the Week – GigaSize
When it comes to RapidShare alternatives my finds aren't always much better from head to toe I hope you noticed that. All I want to do here is offer you some basic info on decent file upload services out there not necessarily "better than RapidShare" ones. Now that we settled that I guess we can move to GigaSize right? Good...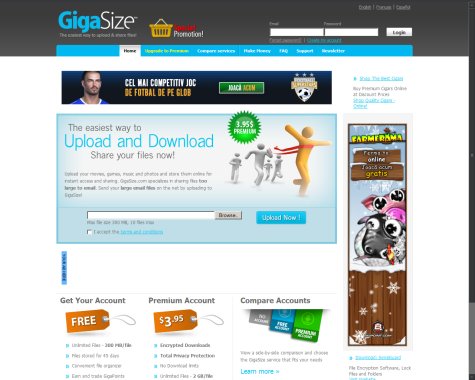 ... because some parts of this RapidShare alternative aren't that good as we're going to see just a bit later. Now I think a few numbers would be just great so here we go: without bothering to create an account you can upload a maximum file size of 300 MB and up to 10 files at once while the free account offers you a convenient file organizer the ability to earn and trade GigaPoints as well as other benefits. Premium accounts push the limits up to 2 GB/file and allow you to store files "forever" not to mention the fact that you'll get rid of the annoying ads that get displayed all over the site's pages when you're there without having a paid account...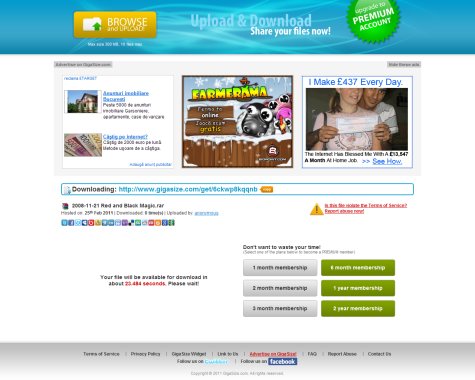 When downloading files from GigaSize I noticed the double annoyance: captcha + countdown. Obviously Premium accounts don't have to wait for a single second but you'll have to pay for that - starting at $8.49/1 month and going up to $94.80 for a two-year membership. Other than the above I should tell you that GigaSize has a few ads too many for my taste and worst of all I noticed that the upload speed is painfully slow - about 40 KB/s. Fortunately after I finished uploading my file and I got through the captcha and the countdown downloading the same file was blazing fast so not everything about GigaSize is bad. Here you have it people - GigaSize the RapidShare alternative of another PCTips3000 week! That's all for today so I'll leave you now hoping that you'll have a weekend at least as awesome as mine. Bye - bye! ;)