Rapidshare Alternative Of the Week – SizableSend
Hmmm... another week ends but there's no reason to be sad: a new weekend comes for all of us so I can only hope that you don't have to work during these two days that follow. Better get wasted tonight go for a quick walk in the woods with your camera tomorrow then rest and upload your image archives on Sunday - how's that? While I can't provide any of the things you need to get wasted or go in the woods I can surely provide a Rapidshare alternative as usual - SizableSend!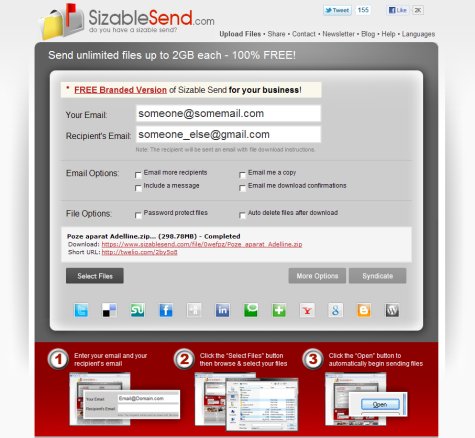 As I said weekend's coming and since it's pretty late and I still have to tell you a few things about what's what here take a look at the official mumbo-jumbo before that all right? Here it is - "SizableSend.com is an easy way for you to send large files (up to 2GB in size) to anyone via email. Just enter the recipients email address upload your files and they will get a download link in their email."
My experience with this service was absolutely great - I just opened SizableSend in my browser (I used Opera 11 as usual - if you have problems with yours please drop a comment and let us all know about it) entered the email addresses required added a ~300 MB archive to upload and finally I got back to my business. What business? No business since the upload ended really fast and the only thing I can complain about is the download speed which isn't as good as I thought it would be (anyway don't expect to spend more time downloading a file slower than uploading it because that's not the case).
All in all this is a great Rapidshare alternative - no silly countdowns or captchas no need to get an account to upload a 1.5 GB archive good speed pleasant interface and then some! To taste all of it there's only one way to go: the SizableSend way! ;)