Run Hulu from outside the US
Hulu is a great website which delivers streaming videos of  TV shows and movies from well known TV networks. With Hulu you can watch TV series from FOX NBC Universal ABC Lionsgate MGM National Geographic Paramount A&E Television Networks PBS and Warner Bros. Television Group. Users can choose from more than 2600 current primetime TV hits such as The Simpsons 30 Rock Lost Glee and The Office the morning after they air; classics like Buffy the Vampire Slayer The A-TeamAirwolf and Married...with Children.
You can watch all of this for free. If you want to watch everything in HD you will have to subscribe to Hulu Plus. With Hulu Plus you can also watch all the series not only the last 5 episodes from the shows. Hulu Plus is also available for IPod Touch IPhone IPad any Android phone Playstation 3 and more.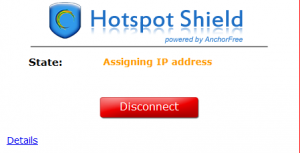 Everything sounds great. But there is a major problem. Hulu is available only in the US. So you will have to find a solution if you want to watch your favorite shows online. One solution is to download your shows from a torrent website :D. Another solution is to use a simple tool called Hotspot Shield.
Normally Hotspot Shield is a security tool. It secures your connection at both your home Internet network & Public Internet networks (both wired and wireless). Using HTTPS encryption Hotspot Shield secures your web session data online shopping and personal information online. But how you can acces Hulu using Hotspot Shield? Simple. Hotspot Shield creates a virtual private network (VPN) between your laptop or iPhone and their Internet gateway. This way you will get an US IP and Hulu will think that you are an US resident.
Hulu is free to use but you will some nagging screen with commercials. But if you don't care then Hotspot Shield is perfect for you. Hotspot Shield runs on any version of Windows and on Mac OS X (10.410.510.6).